Why isn't LA horsier? Settled by ranchers, populated by movie cowboys, and blessed with arguably the best riding terrain of any major city, one would think that this would be one of the planet's equine hotspots. Yet strangely, not since the 1984 Olympics has the city held any world-class equestrian events. That's about to change on September 25-28, when LA is set to follow Paris and Hong Kong in hosting the Master's Grand Slam Indoor horse jumping competition. 30 of the world's top ranked riders will ride atop a sawdust course in the Convention Center with 13 gates measuring up to 5 feet 2 inches for a million dollar purse.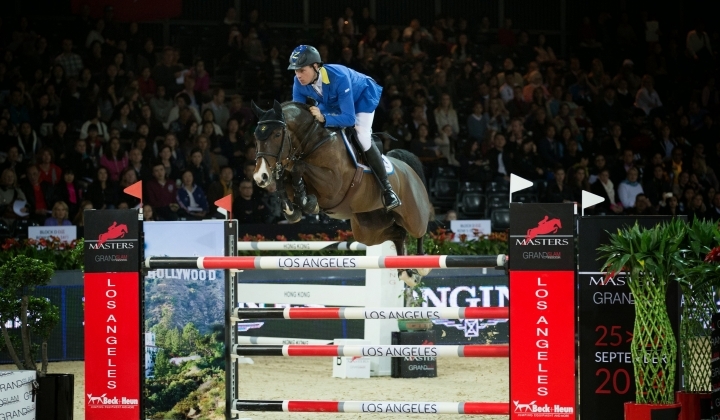 "LA offers a unique combination of spectacular sporting action, lifestyle entertainment and red carpet attendance," notes Christophe Ameeuw, President of EEM World, the organizers and creators of the Masters Grand Slam Indoor. "After Paris and Hong Kong, Los Angeles, a city that is known for its Hollywood glamour and great sporting culture, provided us with exceptional facilities, at the LA Convention, that were particularly suited for our event."
It's going to be scenic affair, full of ancient ritual, as riders in the classic uniform knee-high leather boots, white riding britches and olive colored jackets with white shirt and tie tuck themselves into their gleaming horses to perform elegant ballerina leaps across small pools ("liverpools" in horse parlance) and fences.
"I've been training for the past five years in Germany" says hometown hero, Lucy Davis, of Brentwood, one of the competition's favorites. Having come from three generations of Angelinos active in horsemanship (grandfather, Robert Barron Frieze, was a prominent jockey agent) the blond beauty gained overnight fame in September when she unexpectedly beat two Olympic medalists to win the Grand Prix of Lausanne, Switzerland. At 20, she was the youngest rider ever to win the Longines Champions Tour. She got a standing from the usually subdued crowd.
But that subdued crowd is also unusually colorful. As with Wimbledon, Ascot and other blue-blooded sporting events, horse-jumping attracts the well-heeled and well bred, and much of the best action and people watching will be happening off the arena. "If horseracing is the sport of kings, horse jumping is the sport of emperors" says another hometown favorite, Richard Spooner, currently living in the horse-friendly prairie of Acton, just east of Los Angeles, who will be riding his 16 year-old gelding Cristallo. "You have to remember, that although this hasn't become as big a sport in LA as in the rest of the world, it attracts the crème de la crème, not just from Europe and South America, but also from the Middle East."
"In Europe, the competitions are bigger because we get a lot more spectators. You're treated more like a professional athlete," adds Davis. "It's a big deal for those of us who learned to ride here to have an event like this in Los Angeles."
If past Grand Prix are any indication, expect to see equestrian fans and luminaries such as French movie star Marianne Coutillard, European and Arab Royals, and even Bruce Springsteen and Michael Bloomberg (whose daughters are both professional jumpers)---not to mention Hollywood's own royalty, wandering amidst the Gucci, Hermes and Longines-the competition's title sponsor and official timekeeper -pop-up stores surrounding the arena. If you're hankering to get royally fed for the weekend, plunk down $18,750 per six-seat table to nibble caviar-sprinkled scallops carpaccio and other delicacies prepared by Chef Yves Mattagne who has been awarded double Michelin stars--that's two more than the Convention Center's tried and true Levy's Deli has.
Oh yeah, and there's also going to be horse jumping. Once you tear yourself from the red carpets and Rodeo Drive-like attractions, notice individual riders dismounting to pace out the distances between obstacles like a golfer measuring their next swing: They're planning striding strategies—the crux to winning the competition.
"You want to know your horses' exact pace for optimum striding," says Davis, who, when she isn't training with her 10-year old Belgian gelding, Barron, is finishing her senior year of architectural studies at Stanford. "One of the reasons I won last year's competition is that I left out one stride I would have normally have taken for one of the final obstacles." Commentators considered it an aggressive and bold move, but it obviously worked.
Even for those not fluent with the nuances of horse jumping, The Grand Prix, on the third day of the competition, is an edge-of-the-seat spectacle; a speed race amongst finalists where whoever goes the fastest around the course without knocking down an obstacle will walk away with the prize. "For that kind of payday, we're going to be going a lot faster than we probably should," laughs Spooner.
Will this competition mean LA might finally claim its heritage as a world-class city for horsemanship? "Our goal is to establish Los Angeles as home to the American leg of the Masters Grand Slam Indoor for the long-term," says Christophe Ameeuw. "Just like Paris and Hong Kong, we want to establish the Longines Los Angeles Masters as an iconic rendezvous on the social and sporting calendar."