I met Gary and Hamish on the bus from Geneva to Chamonix. They had eyed my climbing gear and I had eyed the row of Scottish peaks tattooed to Gary's forearm and we decided to join forces for a climb up Mont Blanc.
Our joint-venture ended ten minutes into the climb while navigating a narrow snow ridge descending from the Aiguille Du Midi gondola station. Gary caught a crampon on his pant leg, tripped, and commenced sliding head-first down a 50 degree slope that ended in a gut churning abyss.
We had been on our way down into Vallée Blanche, site of our first overnight hut. Leading the way, I had gingerly placed one cramponed boot in front of the other in order to get good footing on the knife-edge traverse. To our right, a hundred-foot slide to the bottom of the slope. To our left, an 8,000-foot drop to Chamonix.
Gary fell to the left.
I had plenty of time to drink in the full horror of what I was witnessing. There was no shock. No denial. Just the perfect realization that Gary was sliding to almost certain doom and was not doing anything to self-arrest. He ricocheted like a pinball against a boulder sticking out of the snow, his rucksack getting obliterated on the rock but his head being spared the exploding watermelon effect--though not enough to prevent him from getting knocked out. Gary's unconscious body now slid like a rag doll towards the abyss. 100 feet. 50 feet. 10 feet. Goodbye Gary.
The broad edge of the ridge had a single, tiny dent in it where a crevasse had started to form. It was the only possible barrier on the entire edge where someone could conceivably be stopped from sliding over. Gary slid into the dent and whatever remained of his backpack dug into the side of the crevasse, miraculously jerking him to a stop a few inches before the precipice.
Prayers of thanksgiving would have been the proper reaction here, but instead I planted my ice axe into the ridge and froze to a position from where I could safely recall most of the swear words I had ever learned. Hamish was far more sensible, getting down on his haunches and doing a quick Groucho Marx duck walk back up the ridge to the security of the gondola station. The tourist on the observation deck up there, God bless them, were ecstatically snapping photos of the proceedings.
An alert mountain ranger coming up the other way on the traverse pulled out a walkie-talkie and coolly radioed the mountain rescue station located in the valley below us. Within 10 minutes, the cavalry arrived in the form of a helicopter which popped up behind Gary's lifeless body and lowered two paramedics onto the ledge. The deafening sound of the whirling roters stirred Gary enough from his boulder-induced slumber to wave his arm, letting us know that contrary to our suspicions, he was still alive, though, as it turned out, he had broken most of his ribs.
The wave was enough to send me scurrying back up the ridge to join Hamish on terra firma. He was wordlessly bogeying a cigarette when I got back to the observation platform. I needed a cigarette, too. And I don't even smoke.
Mont Blanc seen from the Aguille De Midi: Author's route follows ridgeline from left to right
A big American who had watched everything from the platform commenced squeezing Hamish in an awkwardly intimate bear hug while yelling with game show enthusiasm "He's alive! He's alive! He's alive!" Hamish, who didn't strike me as the hugging type, gamely turned his head to avoid getting his cigarette smashed.
We watched as Gary was loaded onto the helicopter in midair via a stretcher attached to a steel chord. Then Hamish took the gondola back down to meet the helicopter and to introduce himself to Gary's French nurses.
I was now climbing solo.
Shaken but not stirred, I once again set out on the traverse and looped around to the Vallée Blanche where the Cosmiques Hut gleamed in its modernity on top of a snow-covered hill. The hut overlooked the crevassed route going up Mont-Blanc du Tacul, a 14,200 foot bump on the road to Mont Blanc. Early the next morning, I was going to need to cross that terrain, hopefully roped onto someone else to minimize the chance of falling through a snow-bridge.
Straightening my outfit, I headed into the Cosmiques Hut looking for dance partners.
Most people climb back and forth on Mont Blanc via the simple Goûter route, usually spending a night in the Goûter Hut located two thirds of the way up the mountain. I was going on the more interesting Cosmiques route, which traverses two 14,000-foot mountains before hitting Mont Blanc, from where I could descend via the Goûter route. It made for a long summit day, but I figured it was a small price to pay to avoid backtracking.
"Man, that's a hairy route to be soloing." A pony-tailed California climber exclaimed when I explained my predicament at one of the crowded dinner table in the Cosmiques Hut that night. "I'm glad I'm not in your boots."
"Well, I'm hoping I can find someone to rope up with for the crevassed bit in the beginning." I hinted.
"Good luck, dude," Mr. California helpfully responded.
Later, while poring over a relief map of the climb in the Cosmiques Hut's foyer, I struck up conversation with two cheerful lads from Greece and Colorado who smelled to high heaven of garlic from a week of spaghetti cooked in mountain tents. Within a couple of minutes, they offered me a spot on their team's rope. "Who are the other members?" I inquired.
When going to bed, I again bumped into Mr. California who happened to be my bunkmate on the hut's communal sleeping platforms. "Dude, I hope you'll be O.K. on those crevasses tomorrow." he whispered with exaggerated concern. "Oh, I'm sure I'll be fine. I'm roping up with your group." I whispered back.
At 3 a.m. we were zigzagging up through Mt-Blanc du Tacul's crevasses, casting moon shadows on the snow while Chamonix's tiny lights danced in the valley far below us. By the time we were on top of Mt-Blanc du Tacul, dawn had illuminating the next obstacle, the snow wall leading up Mt. Maudit. A menacing wind plume fluttered off Maudit's 14,700-foot summit with the promise that this was not going to be a good hair day.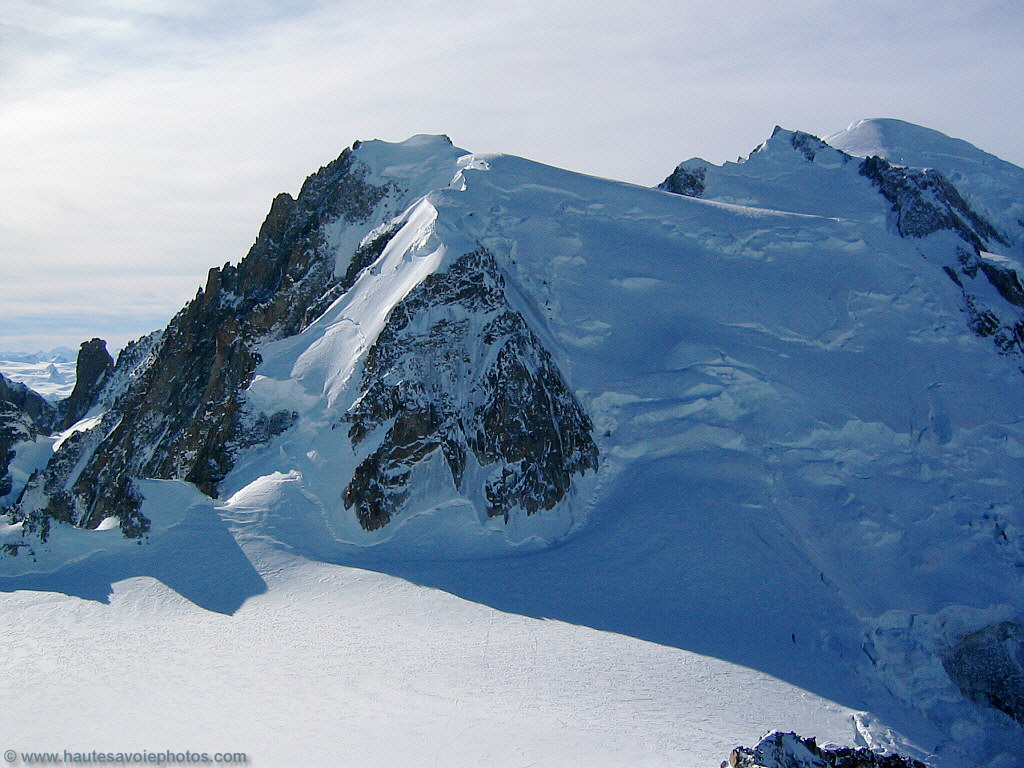 First stop: Mont Blanc De Tacul with crevasses halfway up the face. Main dome of Mont Blanc is on far right.
The crevassed bit now behind us, I gratefully unhitched myself from the expedition rope and headed onwards, rushing to get over Mt. Maudit before the morning sun loosened any avalanches. As it turned out, my concern was not unwarranted; a week later three climbers were killed by a slab avalanche on this very wall.
My crampons dug progressively harder into Mt. Maudit's steepening incline until the slope ended in a near-vertical 100-foot snow pitch with a fixed rope leading to the summit ridge. After clamoring up this wall and out of Mount Maudit's sheltered face, I was suddenly clobbered by the full force of the high-altitude wind. The Alpine gale was enough to turn around the group climbing ahead of me.
I hesitated, watching the summit of Mont Blanc, which now loomed before me, fully visible for the first time during the entire climb. Its bald snow dome was wearing an ill-fitting toupé of arctic wind which curved around its entire mass. My ass felt kicked just looking at it.
But this was going to be a one-way trip, dammit, and I could see folks who (I hoped) were wiser than me moving up the summit. Summoning my best mime-walking-against-the-wind pose, I leaned straight into the tempest and pushed onwards. My extended Marcel Marceau act was aided by the occasional
gusts which blew my steel ice axe vertically on the leash attached to my wrist.

Only halfway there: the summit dome seen from the top of Mont Maudit
A third of the way up the summit dome I curled up against an isolated cluster of boulders to devour a final snack of frozen Snickers bars while mentally compiling a list of activities that sane people do on summer afternoons. My revelry was broken by a hiking pole being poked into my ribs by a passing climber checking to see if I was still alive. The wind was doing a reasonable imitation of a jet engine roar so I signaled to him with my hands that I was OK and could he please keep that damned pole to himself.
I stumbling back onto my crampons and slowly trudged up the final portion of the dome, crouching down during especially violent gusts to assure that I would not join those unfortunate few who periodically get blown off the mountain. Rounding the crest, I saw the green summit flag dancing spasmodically on its tiny pole to some manic melody carried in the wind.
The only other people up there were a couple of Texans and their French mountain guide. The Texans announced their roots by unfurling their state flag for a summit photo. Ahh, those Texans. If it wasn't for the wind and snow they probably would have worn ten-gallon hats and lizard skin boots to the summit. Having recently married a Dallas girl, I scored valuable in-law points by persuading the summit cowboys to photograph me with their Lone Star flag.
The view was hazy on top, but I was awed by the sight of the enormous snow wall that blew vertically over the summit ridge like the tail end of an unseen rocket. In between gusts I managed to glimpse the distant Matterhorn from where I had gazed at this summit a year earlier.
I was getting too cold to savor the moment for long, and before the Texans started demonstrating rope trips I clamored across the summit and descended the ridge that led to the Dôme du Goûter. Clouds roaring over the ridge raced right though me like highway ghosts.
I traversed the Dôme du Goûter, turned left at the enormous glacier sweeping into the Chamonix valley like a suspended waterfall, and then lost my bearings. Where the hell was the Goûter Hut, where I was looking forward to soon collapsing in a stupor? I knew from my map that it was somewhere dead ahead of me, but there was no sign of it from my lofty vantage point. I continued straight ahead into a small glacial valley and then out onto a promontory which was as far as I could go without sliding over the side of the of the Aiguille du Goûter' rock face. There, hidden beneath the edge of a cliff lay the well-sheltered hut which, as it turned out was packed beyond capacity with climbers waiting to go up the next day.
The well-hidden Goûter Hut
A little rabbit stew and bowl of soup later I was bedding down in a space I found beneath a dinner table, dreaming about some day arriving early enough to the Goûter Hut to get a coveted sleeping spot on top of the tables, or better yet, in one of the tiny dorms.
The last days' descent from the Goûter Hut involved scrambling down a steep obstacle course on permanent steel cables strewn like washing lines along a rock and ice gully. My scramble ended with a mad dash across a narrow couloir to avoid getting pelted by frequent rockfall from the overhanging glacier (most climbers bring a helmet in honor of this 70 yard run). Descending from the ice world I noticed that boulders and grit increasingly wrestled with the snow until the earth finally got the upper hand, allowing me to take off my crampons. By the time I passed the Tête Rousse Hut, the lower shelter on the Goûter route, I was strolling on a rock path that zigzagged down cliffs and hills reminiscent of the English Lake District.
I settled down on a boulder to rest my dogs. Safe at last. Or so I thought. Right next to me a group of German climbers were gathered around a young athletic-looking woman from their group who had slipped and dashed her head on a rock. I wandered over to see if I could help. The Germans looked bewildered and helpless, and for good reason. The poor woman had died almost instantly from her head injury. Half an hour later my old pals in the rescue helicopter were back to pick up the body.
By late afternoon, I found myself limping along a cog railway line leading into the green valleys below, walking much the same way as when I started my climb; one foot placed in front of the other with almost paranoic caution.
THINKING OF GOING?
A FEW FACTS
Mont Blanc is often wrongly described as the tallest mountain in Europe. Although at 15,771 feet Mont Blanc is the giant of the Alps, the Caucasus' 18,504 foot high Mount Elbrus is officially Europe's tallest mountain (see Adventure Travel's Nov/Dec '98 issue)--a great tidbit for pub bores.
The first ascent was made by J. Balmat and M. Paccard in 1786 who were spurred by a cash prize. Balmat had discovered this route after getting lost and being forced to bivouac on the mountain during an earlier attempt. Up until then, it was considered impossible to survive a night in high altitude.
At the turn of the century a small wooden observatory was constructed on the summit to study atmospheric weather conditions. This eccentric building featured an "oriental den" complete with carpets and tapestries to provide a sense of elegant luxury at almost 16,000 feet (don't expect this in the modern mountain huts). A replica of this improbable structure can be seen in Chamonix's fascinating Alpine Museum.
WHEN TO GO
July and August are the best months to go weather-wise, but are also usually the most crowded. Alternatively, Mont Blanc can be conveniently summited during winter months using skis or snowshoes.
For local weather conditions (in French) call: (33) 8 36 68 02 74
HOW TO GET THERE
Fly to Geneva and take a train or bus to Chamonix. Trains run several times a day but with the frequent changes and irregular connections you are better off taking the direct buses that depart from the airport and downtown Geneva. An express bus leaves daily from the airport at 4 PM. The information desk in the airport arrivals lounge is helpful in pointing your way to the next bus/train to Chamonix.
WHAT TO TAKE:


Crampons, harness, rope, helmet (though only really necessary for brief rock fall exposure on the Arrête du Goûter), insulated double climbing boots, gaiters, ice axe, warm clothes for layering under constantly changing conditions, cap, gloves, sunglasses, sun protection, headlamp, high-energy trail food, and plenty of water for a strenuous day in altitude. Beverages are expensive in the huts, so consider lugging your own.
Given Chamonix's status as the hub of the climbing universe, it is not surprising that the town serves as a sort of alpine mega mall. What IS surprising is that state-of-the-art equipment, both new and used, is often sold at prices way below those in the U.K. and the U.S. Many shops also rent gear.
WHERE TO STAY:
Chamonix is packed with a wide range of hotels and cheap dorms, called gites. Some recommendations:
Au Boin Coin, 80 Avenue D'Aiguille-du Midi . £40-60 for a double. Good value hotel.
Hotel de l'Arve, 60 Impasse des Anemones. £30-60
Le Chamoniard Voland, 45 Route de la Frasse. £7. Excellent gite for meeting other climbers.
Gite de la Vagabond, 365 Avenue Ravanel-le-Rouge. £6. New place in the center of town with a youthful bar and restaurant attached.
Camping: L'Ile des Barrats is climbers' campground at the foot of the Aiguille du Midi gondola. £3 per tent and £3 per person.
Mountain huts: Club Alpin Francais on 136 Avenue Michel-Croz has info on the refuges and keeps a bulletin board for matching climbing partners.
ROUTES:
Mont Blanc is an anthill of climbers during the summer months. The first two routes outlined below are usually well-trampled and easy to find (otherwise, simply follow the other climbers who will inevitably be ahead of you). The third route is a little more difficult and requires glacier travel skills. Mountain huts usually fill up during the climbing season so try to reserve a spot before heading up.
The easiest route, via the Dôme de Goûter, starts at the chairlift in St. Gervais and continues on a cog railway at the top of which there is an easy hike to the Tête Rousse Hut. Another 4-5 hours up a steep cable route brings you to the Goûter hut from where you can make a summit attempt the next day. It is a good idea to spend a night acclimatizing in each hut; more than half the climbers who attempt the summit turn back, usually due to altitude sickness and exhaustion.
The traverse route described in this article starts from the Aiguille du Midi Teleferique from where you descend a narrow ridge to the Cosmiques Hut. Summit day involves a long climb over Mont Blanc du Tacul and Mont Maudit until you get to the summit dome itself from where you can descend via the Goûter route or the Grands Mulet route described below.
Those who know their way around glaciers and have at least one partner to tie on to can try the Grands Mulet route, which starts and/or ends at the Grands Mulets hut at 10,000 feet. This route parallels Blamat and Paccard's first summit ascent and is a pleasant zigzag through the crevassed Petit and Grand Plateaus.
FURTHER INFORMATION:
Maison de la Montagne (tel: 04 50 53 16 03) in the center of Chamonix across from the tourist bureau is a "must visit" for climbers. The staff here is very helpful in providing up-to-date info on climbing routes and weather forecasts. The Maison de la Montagne also features an excellent climbing library with maps, photos and detailed route descriptions, all of which can be photocopied. You may well be tempted to leave this building yelling "Vive La France!" but restrain yourself to avoid disturbing the guide bureau (tel: 04 50 53 51 44) on the first floor.